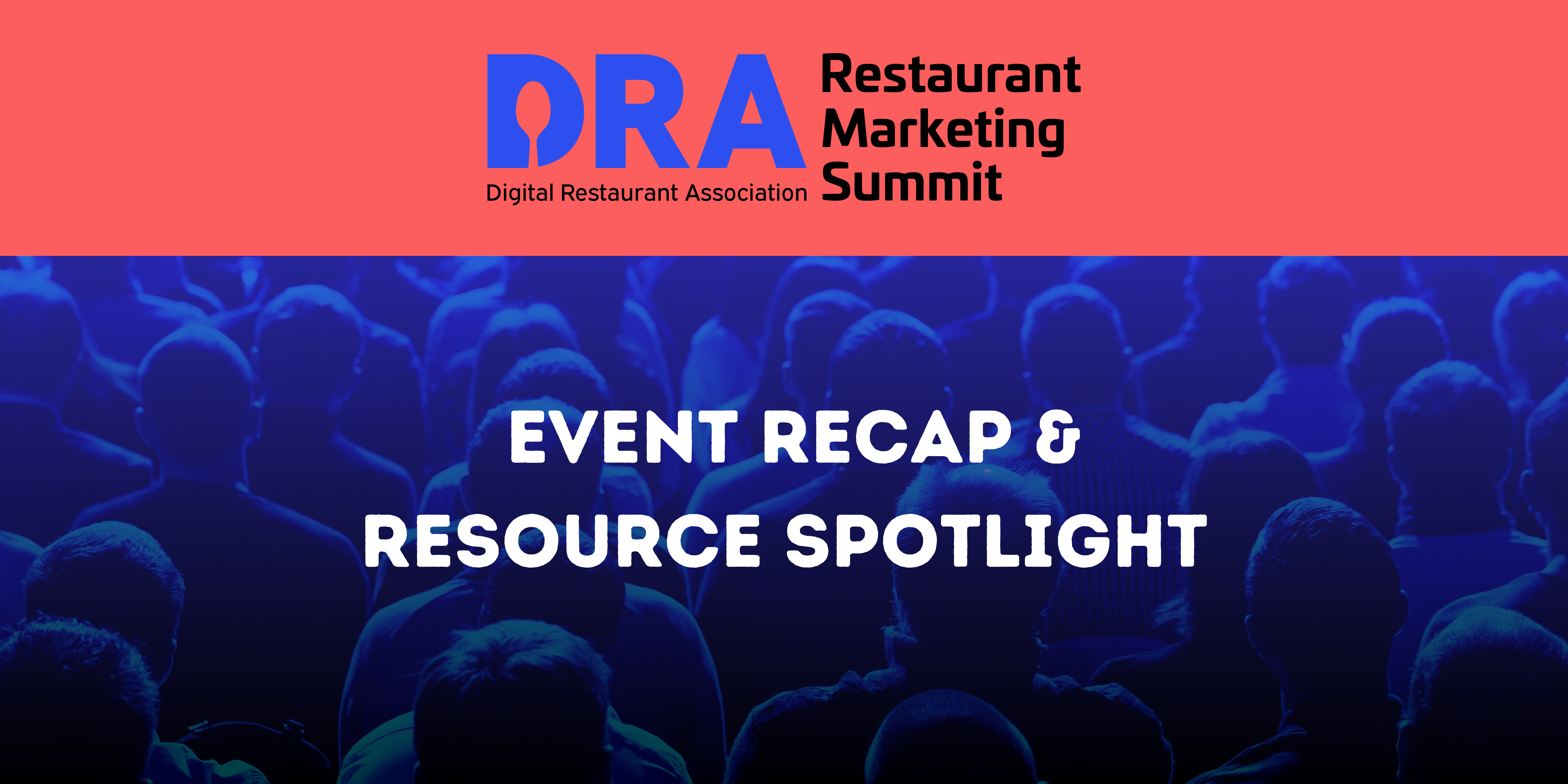 Recap of the 2023 DRA Restaurant Marketing Summit
We were thrilled to host the 2023 DRA Restaurant Marketing Summit with 30+ industry leaders providing insights and giving attendees the opportunity to engage with peers in the restaurant community. Thought leaders provided actionable marketing tactics on topics including increasing customer acquisition, loyalty, engagement and revenue. More than 750 people across the restaurant industry tuned in to learn best practices to improve online customer and brand experiences.
Curious about the key take-aways? Don't worry, we've got them recapped for you below.
Podcast Round-up
Our partners at the International Food and Beverage Technology Association (IFBTA) kicked off the Summit with "Delivering Digital," a new episode of their podcast, Accelerate. IFBTA founder and CEO, Rob Grimes, talked with DRA Executive Director, Joe Reinstein, about the expanding role digital plays in today's restaurant operations.
We spoke with our friends Jimmy Frischling and Michael "Schatzy" Schatzberg of Branded Hospitality Ventures on their podcast, Hospitality Hangout. We were joined by Karim Webb who is an entrepreneur, Buffalo Wild Wings franchise owner, and member of our Board of Directors. Tune into the "Crave to Conquer: Unleashing the Secrets of Restaurant" episode to hear more restaurant industry marketing insights.
Joe also got a chance to sit down with Barbara Castiglia, host of The Main Course and contributor to Modern Restaurant Magazine, to discuss what makes restaurants "digital." The two touch on how the pandemic affected the digital transformation of restaurants, how the Digital Restaurant Association helps restaurants with their digital technology needs and challenges, and what customers want from restaurants in terms of digital technology and services.
Resource Recap
The Summit featured two great sessions from our partners at Google. One session was led by Jason Jih on "Multiplying your business with Google Advertising solutions for restaurants". The other session, led by Ashley Do, focused on "5 tactics on what, why and how to update your Google Business Profile to be more discoverable and grow your business!" 69% of consumers start their restaurant search on Google. Knowing how to properly utilize Google tools is imperative to meeting your customers where and when they are looking for food.
Access their educational materials in our member resource center.
Our partners at dlivrd discussed the current delivery apps and models available to restaurants today and strategies for identifying the option that is best for your business. Founder and CEO, Chris Heffernan led the session "How to choose the right delivery model for your restaurant."
Access their educational materials in our member resource center.
We talked with Total Food Service about the way technology is changing how customers interact with restaurants.
"Before the pandemic, about 8% of sales were online, and restaurants were slow to adapt to digital technology, but post-pandemic sales average 30-40% online now," said Joe Reinstein in their article about the work the DRA is doing to help restaurants navigate the digital age.
Creating opportunities to connect restaurant operators, thought leaders and industry experts is at the core of the work we are doing at the DRA. We are grateful for the support from our members and partners in making the 2023 DRA Restaurant Marketing Summit a success. Keep an eye out for future Summits and gain access to more educational materials like these by becoming a DRA member. Together, we can make a more sustainable technology and delivery ecosystem and ensure restaurants deliver superior online customer and brand experiences.