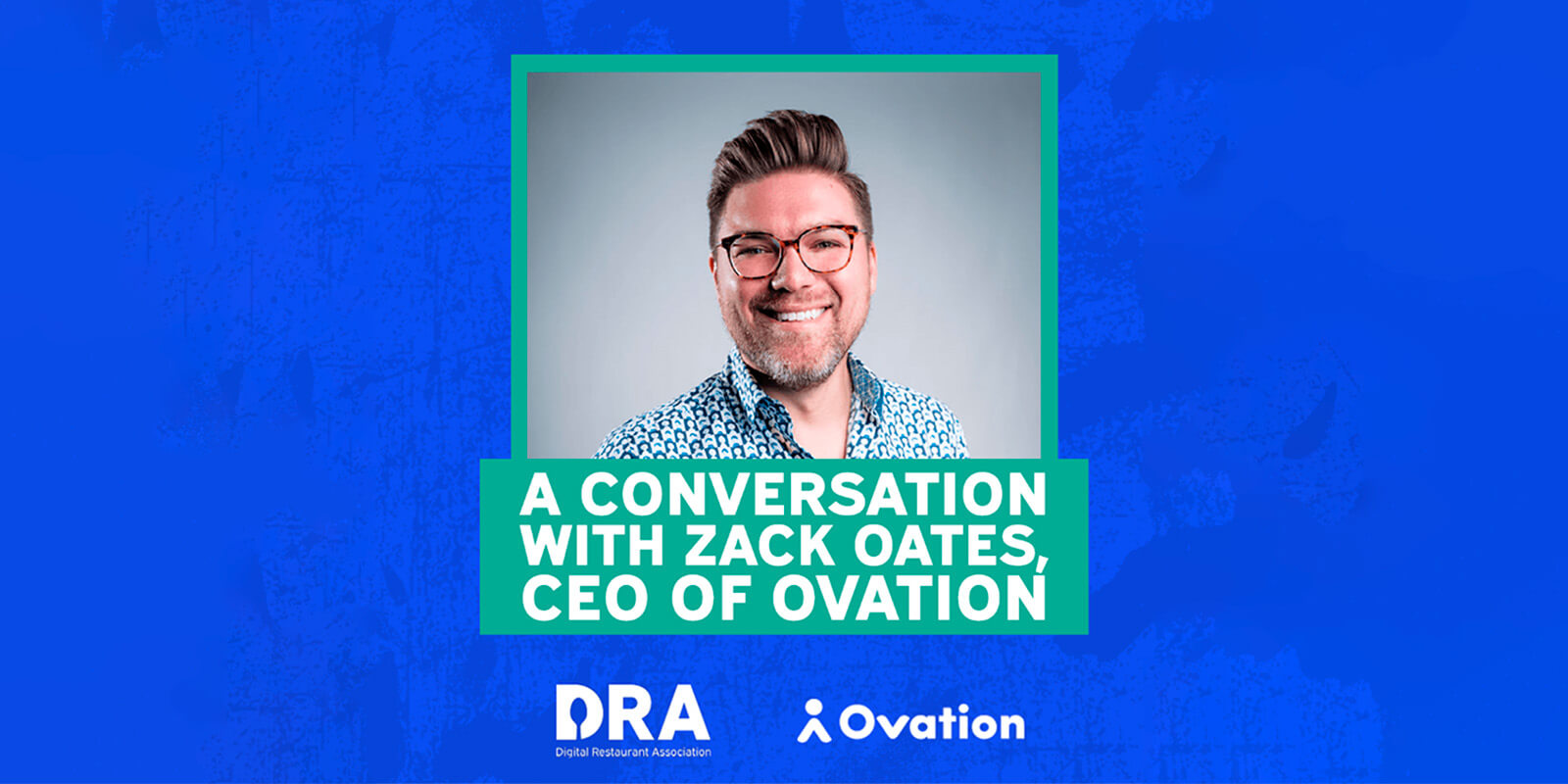 Applauding Ovation: A Conversation with Zack Oates
Zack Oates is the founder and CEO of Ovation, the no. 1 restaurant feedback platform in America. He is also a husband, author, innovation consultant, and blogger. We recently caught up with him to learn more about his work, how he got his start in the food industry and how technology can improve the relationships between businesses and consumers.
Zack grew up in the restaurant space and got his start as a soda jerk at Friendly's before eventually going into tech startups. He loved working there and had a great experience. As a soda jerk, he worked the to go window, and made ice cream for customers.
Zack told us that at Friendly's, there was a UPS driver that would come in and order the same thing every day, and he would pay with exact change every time. So even when the line was super long, Zack would quickly make his order and put it out before he had a chance to order. This created a memorable experience as the driver started to come in whenever Zack had his shift. This early experience of building positive customer relationships was deeply important for Zack.
He also had an interesting upbringing because his father played in the NFL. He loves to tell people that his father was a pro athlete, and mother was a model, but he got his dad's looks and mother's athletic ability. His father also invested in multiple businesses including a car wash, cell phone stores, and a barbecue joint.
Watching his father's business allowed Zack to understand how the back end works at the store level. This helped him to realize every aspect of a business happening within a restaurant. From the ingredients to the uniforms, to the training, to the music, to the colors and guest experience– restaurants are small businesses at their finest.
After working in restaurants growing up, Zack went to college. While in college he spent two years in Ukraine on a service mission. And then after graduating he immersed himself in the startup world, launching his first technology company in 2009. The company, Imply Labs, was built on an algorithm that translated social media data into gift recommendations. He successfully sold that company, and then earned an MBA at Brigham Young University in 2015. Post-MBA he did customer experience consulting for fortune fifty companies through PricewaterhouseCoopers (PwC) for a couple of years. And then in 2017, he started Ovation.
Based on his experiences in restaurants, in building startups as well as consulting, Zack was able to astutely assess food industry gaps and had the knowledge and understanding of how to fill them. He put a team together, got some restaurants on board, and launched Ovation.
Like most startups, it took them a little while to find their way. But then during the pandemic, when everything went off-premise, it created a "perfect storm" for their business. Online ordering activity exploded in 2020, and with restaurants and guests no longer interfacing directly, restaurants realized they needed a feedback solution.
Ovation is that solution. Restaurants no longer need to rely on online reviews or long surveys. There's a better way. Ovation helps consumers and businesses build genuine relationships. According to Zack, "every human desires to feel important." But it's easy for guests to feel unimportant when there are issues with their order. It's important for businesses to rectify consumers' concerns in an efficient and personalized manner.
Data shows that a guest who has a negative experience that is properly recovered, is more likely to become loyal than if that guest never had a bad experience in the first place. Thus, managing customer satisfaction presents opportunities for businesses to represent their true colors. Ovation enables that representation, and their platform is so successful that they boast a ninety-nine point four percent customer retention rate.
"With ovation, we just took a very different philosophical stance, different than every other survey company. Look, we don't believe that you should harass your guests with questions. We believe that [as Danny Meyer says], hospitality is a dialogue."
Zack says that technology, such as Ovation, helps to build relationships. Ovation brings classic hospitality to a digital format. Through frictionless integrations with online ordering platforms and other methods, Ovation allows restaurants to easily resolve guest concerns in real-time, get more 5-star reviews, discover insights to improve, and drive revenue. Ovation let's restaurant employees do what they do best, running the kitchen and providing customer experience, while Ovation is able to efficiently handle customer complaints via personalized text messages.
"We are at a time in human history where texting is not just another mode of communication, it's the preferred mode of communication."
Ovation also hosts an incredibly informative podcast. Zack says that the podcast began during the pandemic when he was having many "incredible conversations" with business owners who are doing "really interesting, cool things." The goal of this podcast is to build value for restaurateurs. Each episode provides valuable insights on topics such as how to grow a restaurant, how to develop customer relationships and how to leverage data and marketing tools to increase revenue.
The Digital Restaurant Association (DRA) shares Zack's view that technology can improve customer experience and restaurant profitability. We affirm that restaurants should have the tools to harness the power of technology to reach new and existing customers. We are proud to partner with businesses like Ovation in an effort to strengthen the restaurant industry overall and create deeper customer engagement with restaurateurs.